The creative work I like the most is making up stories. Our short films may express both my sensibility and versatility in writing. I hope you can enjoy them.

I am also thrilled with working on other people's projects: whether I collaborate as head of writing or just as screenwriter, for a TV series or a feature film, I always love being conducted in new territories and letting myself be surprised. What I've learned from improvisation theater is that there is no input, no theme, no limitation which can't be the seed of a good story.
Thank to my experience as director on different techniques (fiction, 2d animation, CGI, stop-motion, pixillation) I can easily adjust a story to satisfy the needs of a pipeline, or, even better, create a story on given limitations. I really like this kind of challenges. Of course the final product also depends on the quality of the pipeline, but the screenplay is the basis you build a film on.
My first background are classical and pedagogical studies. They may look distant from film-making, but they are not. When you write for children, it is crucial to have a solid awareness about what a young audience may need the most.

By the way, we can speak about the target (ages, genders, social clusters…) and marketing goals, but I would rather speaking about good stories. I feel bad every time I hear "it's for children" as an excuse to serve junk food to younger mouths.
Many times you work on TV or film projects that won't be shot at all. It's frustrating, but I know how difficult is an animation production. Nevertheless, I can't stop hoping and struggling for the best result possible.
Methods of writing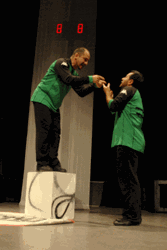 Thanks to my studies and experiences I have learned and developed several methods of writing. Each one of them is a different tool. Vogler's method helps me to concentrate on the evolution (the voyage) of my hero. Field's one helps me with the rithm. But I also use forms, list of items or questions which make me get deep into the personalities of the characters.
From improvisation theater I have learned survival tricks and listening to other people's ideas. No crazy inputs scare me anymore.
To me every project is a prototype and needs special attentions. So I adjust or build from scratch charts and diagrams to keep control even on complex stories and to develope at best every character, because each one of them is unique.
I don't rembember where I read about it, but I love the "lumberjack rule": if you want to fell a tree, you must keep hitting it in the same point. Which means that all the ideas inside a good story must converge, or "hit" in the same point.
But what just experience taught me is the courage of getting rid of all the cool ideas I can have and to find the core of a story and the truth of a character. So, it is a matter of listening to this heart, making space around it and letting it grow. Of course the writing techniques and tools help me keep control of my story. But if I control it without listening (or loving) it, I end up creating "Frankenstein monsters", or just plastic stories, that's not the reason why I do this job.
At the end of the day, I would say that tools and methods can't be separated by its user. Awareness without love does not make a parent a good one.
If I had to sum up in just one world, I would say that the key for a successful story (there are may kind of success…) is its authenticity. Maybe the best stories are not created, cooked, built or well dressed, but generated, educated, protected, fed and respected. Or just loved.
*****************************
EXAMPLES OF TOOLS
Some questions to the develop a character
Name
Age
Look
Short description
Social profile
Biography
How he/she is and why
What he/she does, why and how
What he/she likes and why
What he/she dislikes and why
How he/she relieves his/her own feelings
Ideals
Outlook on life
"Danger zone"(his/her problem)
What his/her heart is really looking for
What he/she wants concretely and why
What he/she risks
What he/she fears
Relationships with the other characters (which one, how and why)
How he/she evolves during the story (Does he/she solve his/her "danger zone"?)
How he/she moves in animation.
A chart about the driving forces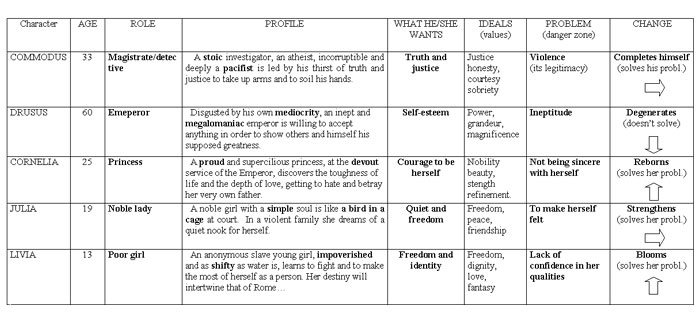 How relations evolve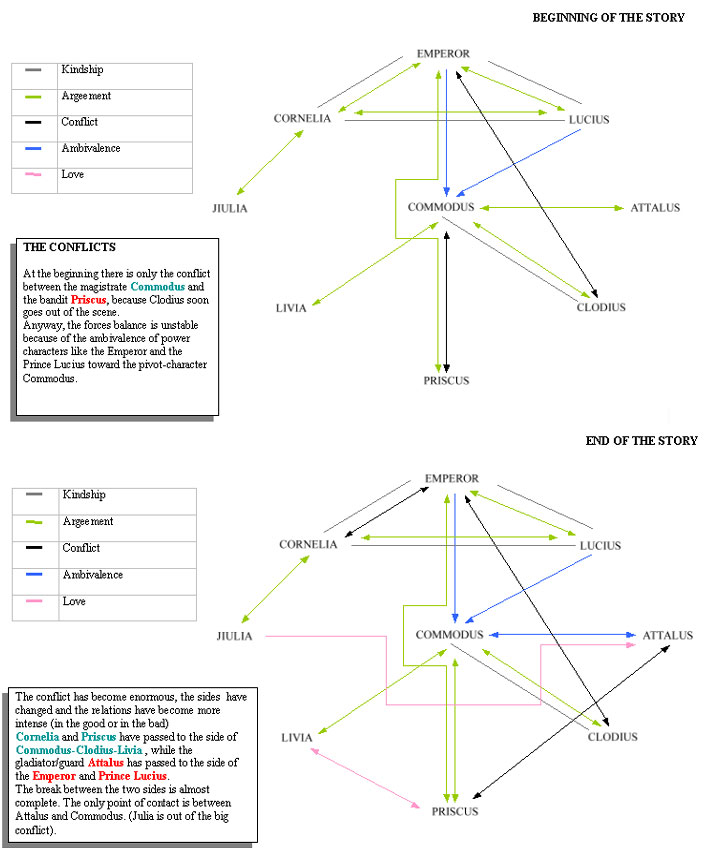 In which episodes characters show up