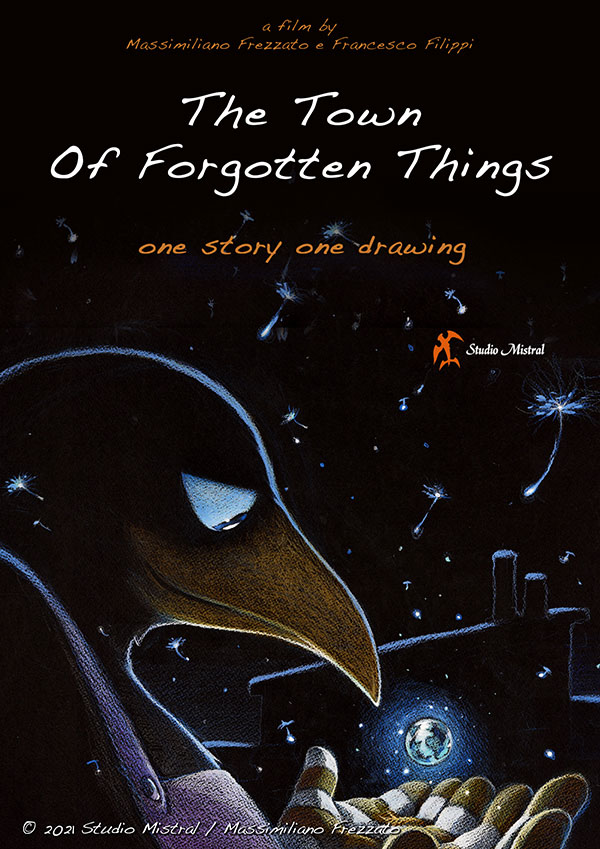 A blackbird takes care of all forgotten things.
One 17′ long story in just one drawing.
An animated film where the animation is imagined.
An experimental film for all audiences.

*******

This film comes from the book La Città delle cose dimenticate, by Massimiliano Frezzato, published by Lavieri. It was painted on 43m long stripe of black paper.

Many animated movies suffers from poor inbetweens or poor design. But our eyes always imagine a missing inbetween correctly. How far can we sacrifice the quantity of poses in name of the visual quality? How much animation can be imagined? This film tries to give an answer.

The music of this film comes from Elisa Misolidio's album Vicolo Stretto (available on iTunes and Spotify).

During the first Covid-19 lockdown in spring 2020 we published online, for few days, a work-in-progress version of the film. The final one will be available during 2021, hopefully in some festivals, then online.
*****************************
Main credits
Direction: Francesco Filippi, Massimiliano Frezzato
Screenplay: Massimiliano Frezzato
Executive producer: Francesco Filippi
Drawings: Massimiliano Frezzato
Music: Elisa Misolidio
Sound design: Riccardo Nanni
Cast (voice over): Lucia Gadolini
Editing and FX: Francesco Filippi